Welcome to the forty-seventh weekend of Lovin' the Weekend Blog Hops.
Giveaway Linky is the bottom linky!
Don't forget to check out my co-host's blog:
I also randomly choose a Featured host each week from the
Lovin' The Readers
linky. This week I would like to introduce you to Julie from Stlavonlady-A cat, girl, man and me!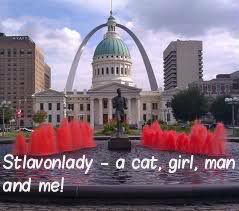 I'm sure she would love some followers. Here's what she has to say:
"
I started blogging for my Avon business and to share my coupon deals. At Stlavonlady you will read about recipes, your health, beauty, family life, kids, living in STL and my Avon business.
I am truly a kid at heart. I love cooking, reading and the cool outdoors. God has always been a part of my life and I am raising my daughter with the values I was raised with.
I am an Avon Representative as well as work for Halloween Productions. I absolutely LOVE what I do. I am lucky enough to have 2 wonderful jobs and still have time with my amazing husband & daughter.
"
Please take the time to check out her blog.
Please make sure to stop by and say hi, let them know you are visiting from the Lovin' The Weekend Blog Hops.
Don't forget to link up to the Lovin' the Readers Hop if you would like a chance to be a Featured host next week. Please comment with a way to contact you, especially if there is not an obvious way mentioned on your blog. I would love to include a little write up about you and your blog in the next week's Lovin' The Weekend Blog Hop post, including a link to your blog. And you will get to include the linky codes on your blog. Sound fun? I'm looking forward to getting to know my readers better.
Here's how this blog hop works. I would appreciate it if you would follow myself,
my co-host
and my
Featured Host
via GFC. If you no longer have GFC please follow in some other way. After that there are three different linkys you can link to. Whichever one you choose to link to, please grab that button and share it on your blog (the codes are on my sidebar).
I'd love it if you could tweet or in some other way share about this blog hop, the more people who know about it, the more potential visitors and new followers of your blog
. I'd love to meet some new friends this weekend.
I have noticed that some people are more interested in just increasing their numbers, while others really want people who appreciate their blog and want to keep up with their posts. So, I decided to create two separate linkys. The third linky is for you to link up your giveaways.
If you are interested in increasing the number of followers to your blog via GFC, Linky Followers, email, Twitter, Facebook or Google+ link up here. I will follow you back if you follow me (just note which one you are linking to):
If you are interested in gaining followers to your blog who will read and comment and truly find an interest in your blog, link up here:
If you have family friendly giveaways to link up, here's your spot. Please make sure to include an end date for your giveaway.
I am so glad you stopped by. Please leave a comment if you link up and I will be sure to stop by and follow back.
Don't forget to check out my
"Blog Hops" page
for other great weekend blog hops!!
The Back to Preschool Giveaway Blast ends tomorrow.
Have you got your entries in? Don't forget there are daily entries and there are even some new bonus entries this week, so stop by to increase your chances to win!
There will be 6 winners!
Grand prize is valued at $418 and has an awesome collection of items. And there is a 2nd Place Prize Pack a 3rd Place Prize and 3 runner up prizes.
Good luck!