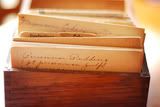 Welcome to my first Blog Hop! Every Thursday I will be having a blog hop where we can share our favorite recipes with each other. I always love trying new recipes and I thought this would be a fun way to find some new favorite treats, meet new friends plus get many more followers!
Who is ready for my first Recipe Thursday Blog Hop??? The rules are pretty simple. You must follow me,
Stlavonlady
and then follow as many other blogs as you want. Please when adding your blog make sure it links up to your recipe you have added. You don't have to add a recipe. You can just follow other blogs.
I would love it if you added my recipe pic or blogged about the blog hop to spread the word. : )
Thanks everyone! Let's make my first Blog Hop a S-U-C-C-E-S-S!!
The recipe I will be sharing is:
Salted Nut Bars
1 - 16oz. jar of dry roasted peanuts
12 oz. package of peanut butter chips
1/2 stick of margarine
1 can of sweetened eagle brand milk
1 - 8 oz. package of miniature marshmallows
Put 1/2 of the peanuts on the bottom of a 9 X 13 pan. On the stove melt margarine, peanut butter chips and eagle brand milk. Remove from heat and add the marshmallows. Stir and the add mixture on top of the nuts and top with the remaining peanuts. Refrigerate before serving.